Location – Mumbai, India
Photography – Aditya Warlikar
This 1000 sq. ft. apartment in Thane, Mumbai is owned by a family that had a simple yet intriguing brief- they wanted this home to be designed as an ode to a particular family member whom they consider the backbone of the clan. As a nod to their clean nature, they wanted us to make ample use of the color white. Hence was birthed the White House.
We were thrilled with this idea. Here were clients who were giving us a clean canvas, waiting to be painted as best we imagined.  White is ethereal, pristine and modern. White provides clarity and simplicity. White allows other elements to stand out without taking away its own power to make space look elevated, bright and seamless. While white isn't stimulating to the senses, it paves the way for the creation of anything the mind can conceive.
As we enter, the vista opens up and the true power of white registers in the mind. The living space and dining area seamlessly flow into each other to create one large family room. To the right is the largest wall of the apartment.  We framed this accent wall with custom made mouldings and finished with a gorgeous royal blue matte PU paint. This instantly adds a touch of drama and old school grace to the entire room. Speaking of grace, let's look at the different ways in which a single color has been applied.
Fluted wall panels which add rhythm to the surface are finished with matte white PU paint. Pure white Italian marble finished with mirror polish throws every other color into sharp relief. Lush, white curtain upholstery with geometrical textures lends an unspoken charm to the space and the satin finish white paint flows through the walls of this entire house. This palette of seamless white is then manipulated by adding some statement elements to tell a story and create more engagement with space. An elegant swing hangs from the ceiling by gold rods. It's upholstered in a chic hound's-tooth print. A large L-shaped sofa takes pride of place next to it. A spot of indoor green adds life & warmth.
At the same time continuity of the flawless white Italian marble which has light peach and green wavy pattern is broken by a touch of gold. Brass inlay in the marble subtly defines the functional difference between the two spaces but the flowy element swing makes the transition between these two spaces more flexible maintaining the openness pf the space.
The living room entrance has a gold metal case with glass shelves to house Knick knacks and a cute-as-a-button shoe cabinet.
A pirouette away is the dining area, the absolute heart of any home. A six seater table has a coquelicot and glass stem which holds the rectangular top. Its edges are rounded adding an elegant air. Shining like new pennies is the metal casing of the chairs, upholstered in fabric both benign and popping. A crockery unit provides storage. Above this, is a large mirror in a gold minimalistic frame that instantly reflects and maximizes the space. A contemporary light fixture is a fun design element here.
Along this is a long corridor in pristine white that leads to the inner sanctums of this home. B&W photos of family members hang here encased in black frames. Teal color tiles artfully arranged in a grid and framed with curved edges make a cozy niche for a guest washbasin.
This bedroom explores the happy combination of blue and green. We employed unconventional shades of teal and aquamarine. Teal flows on the walls, ceiling and curtains of this bedroom to create a calming and refreshing experience, aquamarine is seen in the furniture. We wished to create a natural vista inspired by nature, namely horizons where an infinite sea meets an endless sky.
Elements like patterned fabric headboard, textured curtain upholstery, black profiles and a pop mustard chair create a more playful experience in the space.
Wardrobe of this bedroom uses infused handles to create a pattern that engages with the geometry of the space.
This room is a picture of calm, a place to escape to from the chaos of life.
Audrey Hepburn insisted that there's a shade of red for every woman. And the chief occupant of this room insisted on the most dramatic shade playing a prominent role here. In sharp contrast to the previous soothing bedchamber, this space is warm, spunky & edgy.
First, we applied wooden flooring to lend a natural warmth and balance the required red. Next came a cool, grooved wall on which appears a world map in gray. An effect of white tiles in black edges is created, and then seamlessly mirrored in the bed linen. A far corner by the bay window creates a utility space with an autumnal theme. Here lays a work desk and side storage unit in white, decorated with dry stems, reminiscent of western 'fall' décor. Now the piece de resistance is the most oozing, dripping, luscious crimson that takes up a whole wall in the form of wardrobe fittings. One look at this ripe red and you know an interesting personality is housed here.
A large mirror with curved edges (a theme you'll see in different parts of the house- and in different ways) is the crowning glory and quickly makes the room appear larger and more refined.
For this room, we had a clear vision. It ought to be the personification of a fine lady, proud of her hearth & home. A color palette of a pastel peach and a withering, cool mint was decided upon, along with our resident white of course. Floor to ceiling sliding windows take up a corner, flanked by curtains in spotless white. This invites the light in and adds a clarity and freshness to the room that's unrivalled. A planter here adds the joy of new leaves.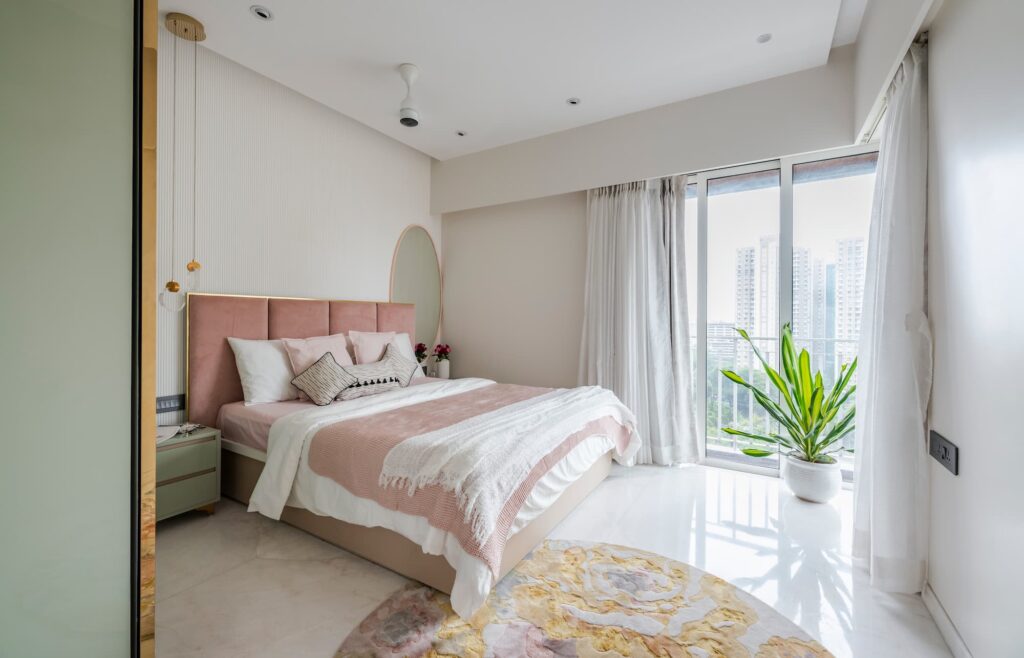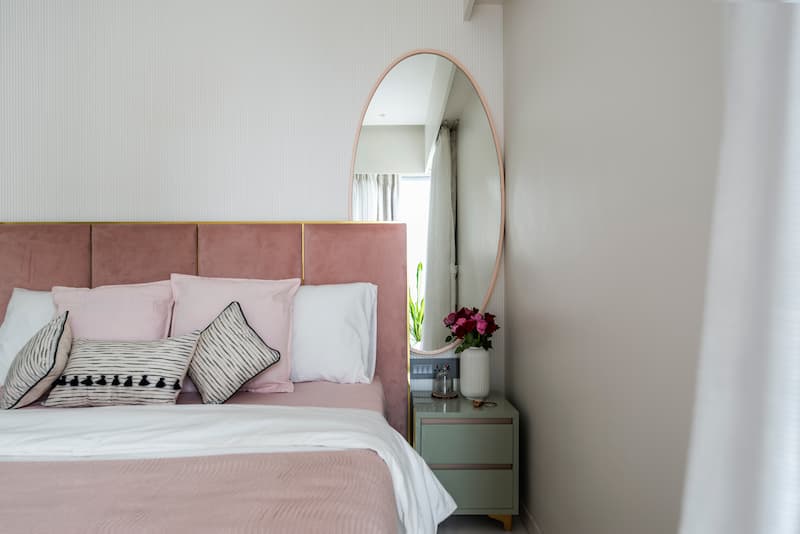 The bed boasts a velvet finish, pastel peach headboard framed in perfect rectangles with gold finished metal highlights. The bedcover sourced is also a geometric marriage of white & peach. The soft and subtle fluted wall behind is finished with glorious white PU paint.

The mint shows up in the finish of the wardrobe and side tables. A transparent, hanging light fixture creates beautiful reflections on the wall creating an illusion of flickering water on the wall.
A small space, we decorated it in tiles of teal color arranged in interesting pattern and enhanced with white grouting. The cabinets finished with lighter shade of teal laminate.  We enabled clean lines to not clutter the room and kept this space more functional than decorative.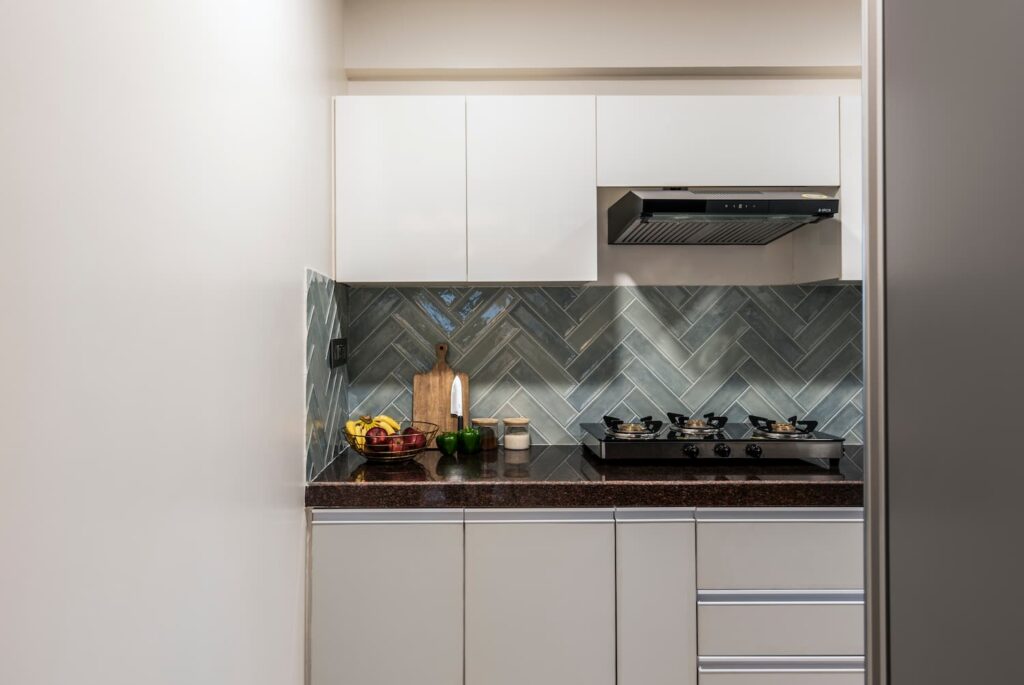 A leisurely walk down this apartment and you'll see the beauty of white reflected in every nook and cranny, enhanced by a thoughtful addition of colors and design elements. A perfect space to relax, rejuvenate, laugh and make memories by the truckload. A homage to the concept of 'home', just as the owners wanted.